School Apps
How Schools Can Communicate With Parents During a Crisis
March 17, 2020
A note from Digistorm: This is a resource that we created at the start of the COVID-19 outbreak. We understand that navigating communication during a crisis can be a stressful time. If you would like assistance with any of the below, please feel free to reach out to a member of the Digistorm team.
When an emergency happens at your school, your top priority (aside from keeping students safe) is to ensure that your community has clear and accurate information about what's happening. There are a number of procedures that your school can put in place to keep parents informed about their child's safety and clearly communicate any updates or changes. We've put together this resource to ensure that your school has its bases covered when it comes to communicating during the COVID-19 outbreak, with examples from some of our Digistorm schools.
You can navigate to the relevant section of this article here:
Check your communications plan
Get the right information out — fast
1. Check your emergency communications plan
Most schools will have protocols for communicating information to parents in the event of an emergency, whether it be an extreme weather event, data breach, epidemic or school lockdown. However, if your plan hasn't had an update in a number of years, it may not take into consideration how you can utilize all of your school's digital channels. If you're working in administration, marketing, PR or communications at a school, ask for a copy of the plan and perform an update if it's out of date. Here's what your plan should include.
Nominate a central source of information
Your school likely has several channels that they use to communicate with parents, students and staff during an emergency. This can be great, as it ensures that one way or another your message will likely reach most of your community. However, each channel needs to be directing to a single source of information.
Most schools that work with Digistorm are creating a dedicated COVID-19 updates page on their website where they can provide parents with detailed information as the situation develops. Here's a great example that we've seen from Redeemer Lutheran College: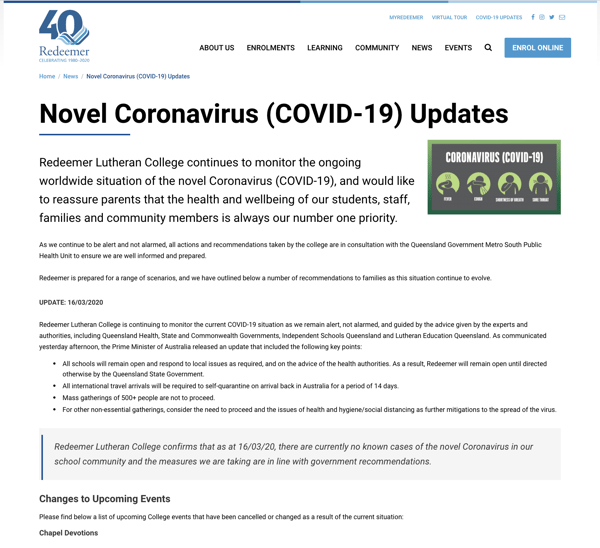 Source: Redeemer Lutheran College
And another excellent page from Hillcrest Christian College: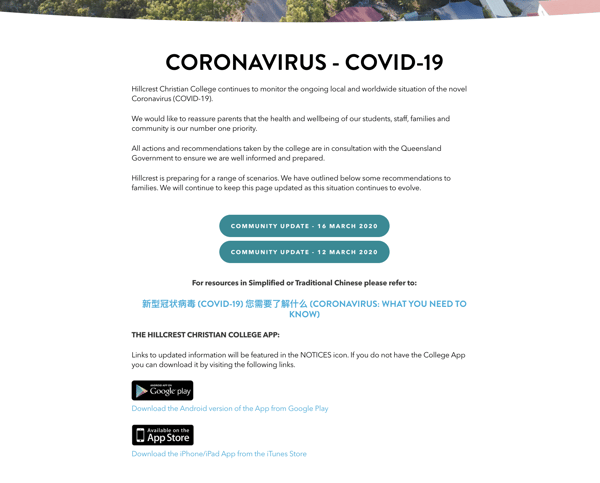 Source: Hillcrest Christian College
Resources:
Create a quick guide to all your communication channels
List out all of the different channels that your school currently uses to communicate with parents, students and staff. This may include:
Put together a quick guide to how each one can be used (or not used) to communicate about the emergency. A good rule of thumb during the COVID-19 outbreak is to keep your messaging brief, and always direct readers back to the central source of information. This is because news and information is changing rapidly — almost hourly — and if parents come across an old piece of information that doesn't link to the most recent updates, it can cause a lot of confusion.
Here's how Redeemer Lutheran College is using their Facebook page to alert followers to a new update, but link them back to their central source of information:
Source: Redeemer Lutheran College's Facebook page
Finally, if needed, institute a chain of command for creating, publishing and approving communication during an emergency. Make sure that those who are publishing the content are aware of their responsibilities and approvals processes to minimize any unexpected posts.
Resources:
2. Create your messaging
When the emergency hits, it's time to put that plan into practice and create your messaging. In this stage, it's important that you have all of the correct information in place before you post. Check official advice from both your state and federal governments to inform your messaging, and ensure you have brief senior leadership before posting.
It's a good idea for your message to include:
An acknowledgement of the incident — stick to the facts, and any government advice if applicable.
Any actions that your school is taking to address the incident (e.g. closing the school).
Reassurance that the health and safety of students and their families is your school's highest priority.
Information on how your school will continue to communicate with parents.
Information about how to contact the school for additional information.
If your school is looking at canceling events, extra-curricular activities or assemblies, compile a list that you can provide in the update.
Resources:
3. Get the right information out — fast
Once you have your messaging sorted, it's important that you're able to get it in front of parents as quickly as possible. This is especially important once the rumour mill has started churning, and misinformation is making its way into your school community. There are a number of channels that you can use to do this. Here are the best ones for getting a fast response out to your community.
Social media
Social media is a great place to update your followers with short, sharp updates and new information. The important thing to remember is that social media is a two-way conversation. This means you need to have a team member on hand to monitor posts, answer questions and ward off any misinformation that might be appearing in the comments.
Source: Redeemer Lutheran College's Twitter
Resources:
Website
Your website is often the number one place that your community will visit for in-depth information about the crisis. Create a dedicated page where you can publish statements, answer common questions and provide contact information for concerned parents. Adding a pop-up, call-to-action or an alert banner to your website is a handy way to direct users straight to the right information.
Resources:
School app
Your school app is the one of the best ways to get your message directly to parents. You can place a banner or a button within your app that encourages parents to engage with your most recent notices regarding COVID-19. Here's an example of the newly updated Kings Compass app: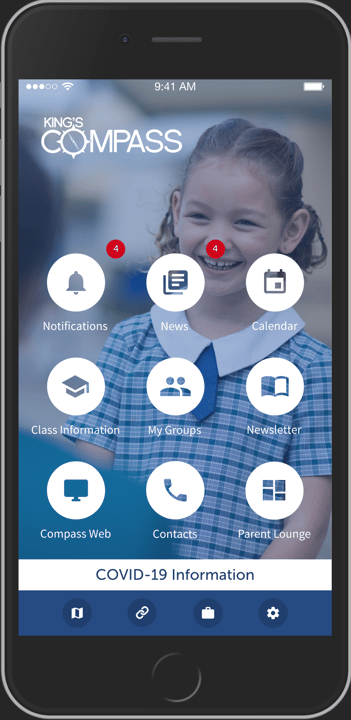 Source: Kings Christian College
Push notifications are also a great way to quickly get your message in front of the right audience. They look like a text message, instantaneously alerting parents to a new update in their school app. Because push notifications only allow you to publish a limited number of characters, it's important to include only the most important information and direct people to find out more within the app.Here's a quick video showing you how to send a push notification in the Digistorm App:
Resources:
Crisis communications can be a stressful experience for your school. Being prepared can help alleviate the uncertainty. If you have any questions or would like us to place a notice banner on your Digistorm App or Digistorm Website free of charge, please reach out to your Client Success Manager or contact the Digistorm Support team today.