Website Development
A Quick Checklist: Is Your School Website SEO Friendly?
March 29, 2021
A note from Digistorm: This post was originally published in January 2017. We've updated it to include more up-to-date and relevant information.
It's a common question for any person in charge of website performance: is my website SEO friendly?
Over the past couple of years, we've covered off on the SEO basics including how to perform keyword research, how to write content that search engines love, and how to submit your site to the search engine overlords (also known as Google Search Console). We've even had a deep dive into those shady black-hat techniques and shortcuts that you should steer clear of.
But what about if you just want to perform a quick site audit to make sure your website is performing in Google? That's where this checklist will come in handy.
There are a myriad of ways to improve your search engine optimization (SEO), but for today we're just going to look at the basics that any school website administrator can tick off the list. Let's dive in!
1. Google your brand terms
It's the oldest trick in the book, but it's still the best diagnostic tool out there: Googling your school's name and seeing how you appear in search engines. This helps you to ensure your website pages are appearing in the desired order, that your Google My Business listing is showing, and that new content is being indexed properly.
One thing to note is that Google takes into account your past search history, current location and search preferences when you perform a normal search, so make sure you:
Turn on incognito mode (or a private browsing session)
Sign out of your Google account(s)
Test out different variations of your school name, including misspellings.
Generally, this is the easiest way to check that Google is crawling and indexing your site correctly. The biggest warning sign you'll need to look out for in this step is if another business or website is appearing for your brand terms above your school website.
2. Update your title tags and meta descriptions
Most website platforms will have an SEO tool that allows you to add what is called metadata to each web page. In this area, you should be able to add titles and descriptions that will display in Google Search Results. Your page title and meta descriptions should contain your brand term (usually your school name) and the basic information that a searcher will need to help them decide whether they want to click on the result or not.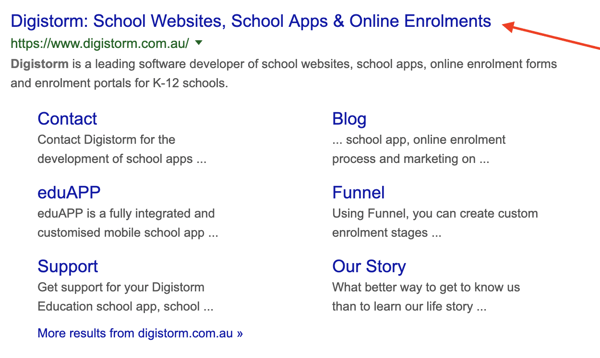 A search engine result for Digistorm
Most content management systems will automatically pull through the page title and your website name to be used as your title tag, and the first couple of lines of content to be used as your meta description. Usually, you will want to update them to include important page keywords or additional information that will grab the viewer's attention and prompt them to click. This is fairly easy to do within most popular CMS tools, including Digistorm's CMS of choice, Craft.
You can also run reports, either within your CMS or using an external SEO tool, to ensure that every page has a set title tag and meta description, and that they are the optimum lengths for ranking in Google. You can find out more about optimising your metadata by checking out our post, How to Nail Your Meta Title and Page Description.
3. Check your target keywords
When composing text on any page of your website, it's obviously very important to consider including the keywords that matter to you. However, keyword data changes, and it's important that you stay on top of which terms you are ranking for and which terms you may need to adjust.
You can subscribe to a keyword tracking tool through an SEO software provider, like Moz, Ahrefs or SEMrush. You may like to keep a dynamic list in an online spreadsheet, where you can track your keyword and web page performance over a number of years. To ensure you're choosing the best keyword for your page, check its:
relevance — does it match the page content, or would another keyword be more relevant?
search volume — are people actually searching for this term?
competition — how many other websites are using the same keyword on their page?
You'll also want to make sure that keywords are integrated into your page in key places (for example, your page H1, title tag and meta description) and that they are written into the content in a way that reads well to your target market — don't attempt to stuff keywords in where they don't go!
4. Ask for relevant backlinks (and remove irrelevant ones)
If you work with partners in your community, by publishing news relating to them on your website or linking to their business name your website, you might want to consider asking them for a backlink to your website. Being linked to from authoritative, non-spammy external websites can have a positive effect on your SEO. Unfortunately, the opposite is also true — having links from non-authoritative, spammy sites can have a detrimental effect on your SEO.
You can perform a backlink audit by using tools from SEO software providers, or you can also check your backlinks from Google Search Console by visiting Links > External Links > Top Linked Pages. You can reach out to website providers directly, either to ask them to include a link to your website from one of their pages (make sure it's relevant!) or to remove one.
5. Set up a regular content audit
One of the most important considerations for your school SEO is that you keep your website updated with interesting, engaging and relevant content. Publishing new content (especially on your blog or newsletter pages) encourages new and repeat website visitors to engage, as well as providing you with a new place to add new target keywords.
Continually publishing content can get out of hand however, which is where a content audit comes in. A content audit is where you allocate time regularly to assess each page that is published on your website against qualitative and quantitative data. At the end of the audit, you should have a list of pages that are still fresh, a list of pages that need an update, and a list of pages that you can remove. You can find out how to perform the process from start to finish in our post, Content Audits: A Simple Guide for Schools.
In summary
Keeping your website SEO-friendly doesn't need to be a chore! You can simply tick off each step within this checklist to make sure your website is performing at its best.
Did you know that websites developed by Digistorm come with an SEO tool that allows you to easily update your metadata and to optimize your page titles and descriptions for search engines? Here's some more information about our built-in SEO tools:
You can also learn more about school websites by reading our free resource: The Ultimate Guide to School Website Design. Check it out!